• miss South Africa • swimwear • swimwear pageant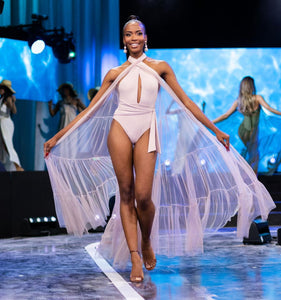 Last Saturday saw the crowning of our new Miss South Africa, Lalela Mswane, at an elaborate function at Grand West in Cape Town.  It was great to see everyone stepping out so stylishly  and the decision by the judges was a tough one as all 10 contestants were capable of being our new queen.  I'm sure Lalela is going to do us proud and be a great ambassador for our country.  
This year the mood board we were given was one of natural, earthy colours - olive, terracotta, salmon and blush - and we worked closely with Texneo, a Brazilian textile company that sponsored all the fabrics for the show.  The fabrics were beautiful and soft, inspiring a very feminine range of classic, timeless, elegant designs that moulded perfectly to the body.  The Kaftans had an ethereal feel as they floated elegantly behind the girls, giving them a touch more coverage for extra self confidence as the swimsuit section is always the toughest part of the show. 
But the Top Ten rocked it and I wish them all the best in whichever  path they decide to choose!  
I'm looking forward to the summer of 2021 and putting this pandemic and lockdown restrictions behind us - so here's  to a sunshine filled, healthy post pandemic boom !